Airline

Flight

Origin

Foreseen

Confirmed

Terminal
Gate
Status
307124/10/2021
MANAUS / AM (MAO)

07:25

07:25

TPS1
-
On time
Follow
302324/10/2021
CAMPO GRANDE / MS (CGR)

07:30

07:30

TPS1
-
On time
Follow
332024/10/2021
SÃO LUÍS / MA (SLZ)

07:30

07:30

TPS1
-
On time
Follow
328424/10/2021
SÃO JOSÉ DOS PINHAIS / PR (CWB)

07:40

07:40

TPS1
-
On time
Follow
328924/10/2021
CONFINS / MG (CNF)

07:40

07:40

TPS1
-
On time
Follow
329024/10/2021
GOIÂNIA / GO (GYN)

07:40

07:40

TPS1
-
On time
Follow
170124/10/2021
CONFINS / MG (CNF)

07:45

07:45

TPS1
-
On time
Follow
320224/10/2021
TERESINA / PI (THE)

07:45

07:45

TPS1
-
On time
Follow
323524/10/2021
SALVADOR / BA (SSA)

07:45

07:45

TPS1
-
On time
Follow
327824/10/2021
FLORIANÓPOLIS / SC (FLN)

07:45

07:45

TPS1
-
On time
Follow
Airline

Flight

Destination

Foreseen

Confirmed

Terminal
Gate
Status
504624/10/2021
CAMPINAS / SP (VCP)

05:45

05:45

TPS1
13
Estimated
Follow
410524/10/2021
CONFINS / MG (CNF)

05:50

05:50

TPS1
12
Estimated
Follow
369724/10/2021
FORTALEZA / CE (FOR)

06:30

06:30

TPS1
15
On time
Follow
301024/10/2021
MACAPÁ / AP (MCP)

07:15

07:15

TPS1
26
On time
Follow
315624/10/2021
RIO LARGO / AL (MCZ)

08:10

08:10

TPS1
31
On time
Follow
192624/10/2021
PORTO ALEGRE / RS (POA)

08:40

08:40

TPS1
4
On time
Follow
369124/10/2021
MANAUS / AM (MAO)

08:40

08:40

TPS1
15
On time
Follow
170824/10/2021
FORTALEZA / CE (FOR)

08:50

08:50

TPS1
11
On time
Follow
335824/10/2021
BELÉM / PA (BEL)

08:50

08:50

TPS1
16
On time
Follow
455024/10/2021
RIO DE JANEIRO / RJ (SDU)

08:50

08:50

TPS1
25
On time
Follow
| | |
| --- | --- |
| Airline | |
| Flight | |
| | |
| Foreseen | |
| Confirmed | |
| Terminal | |
| Gate | |
| Status | |
Você está seguindo o voo.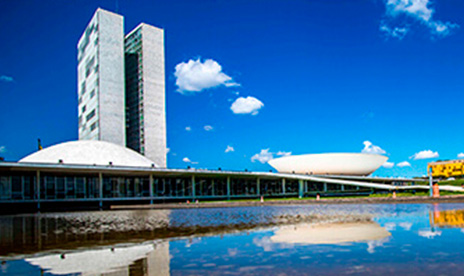 Brasília's History and Attractions
During the presidency of Juscelino Kubitschek in 1956, Brasília began to be built in order to be the new capital of Brazil - which, at the time, was located in Rio de Janeiro.
Inaugurated on April 21, 1960, the current federal capital is now the center of the country's power, Heritage listed by UNESCO and home to more than 2,4 million people.
Oscar Niemeyer, a Brazilian modernist architect, was responsible for designing the most famous and iconic public buildings in Brasília such as the Cathedral, the National Congress, the National Theatre and, most recently, the Digital TV Tower.